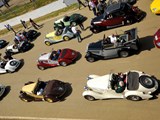 Eligible cars
Full membership is for anyone who owns or has an interest in eligible historic cars.The Club defines the following as eligible historic cars: All BMW, Frazer Nash-BMW, Dixi, EMW, Veritas and AFM cars made up to and including the 500 series (excluding 'Neue Klasse' cars), 3200, Isetta, 600 and 700 models. Specials based on an eligible BMW chassis and engine may be accepted at the discretion of the Committee.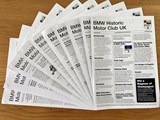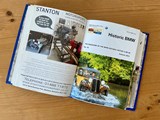 Subscriptions
The annual subscription is £35.00 payable on 1st January each year. There is no joining fee. The subscription for anyone joining after 1st October will include the following year.
By becoming a member of the BMW Historic Motor Club (UK) Ltd you will receive the following benefits:
Newsletter
A newsletter is sent by email or post to all members three times a year keeping them informed of forthcoming events, results of events and any other relevant news.
Magazine
A high quality full colour magazine is produced three times a year and is sent to all members free of charge.
Events and AGM Rally
Invitations to all BMC HMC events, together with voting rights at the Annual General Meeting.
Become a Member of Our Club
If you would like to become a member please
download, print and complete the Membership Form.
Club Mailing Address
BMW Historic Motor Club
Lower Norgrove,
Yarrington Road,
Alfrick,
Worcestershire.
WR6 5EX